Cat Food Recipes with Chicken and Beef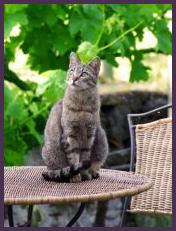 Want to learn how to make cat food? People fed their cats from their kitchens for generations before we had canned, commercial food. After so many heart-breaking pet food recalls is it any wonder that so many people are now making their own cat food? Chicken cat food recipes are among the most popular among discriminating felines, so we thought that we would put all of the chicken recipes together and throw in a few beef ones too.
On this page of NoCans.com you'll find a number of recipes to make your own cat food from ingredients found in most kitchens. We've only included those recipes that conform with our foods not safe for cats list. Before switching to making your own cat food or just trying a few cat food recipes to use in emergencies or as a special treat, be sure to check out that list.
Chicken Cat Food Recipes
CHICKEN AND PASTA STEW
2 packages ground chicken (Or turkey)
2-3 small carrots, cooked
2-3 cups macaroni (Cooked)
2 tablespoons vegetable oil
Garlic
Boil the macaroni until tender. Cook up the chicken in a frying pan. Mix everything together in food processor. Add the oil and the garlic. Mix well.
FINICKY EATERS MEAL
1 cup chicken, boiled or microwaved
1/4 cup fresh broccoli, steamed
1/4 cup shredded carrots, steamed
Chicken broth
Mix ingredients with enough chicken broth to hold together. This same recipe can be used with fish (broil or microwave until it flakes.) You can also vary the recipe by adding rice or other vegetables. Ensure the food has cooled sufficiently prior to serving to your cat.
CHICKEN STIR FRY
Dice raw chicken breast. Heat oil in a wok or frying pan, and cook the meat quickly over a high flame, stirring all of the time. When the chicken is almost cooked, stir in a few flaked almonds for added crunch. Allow to cool and serve to your cate with a little plain boiled rice.
CAT JELLY
A lovely recipe for cats sure to be an instant hit!
3 cups chicken broth
4-1/2 tbl flour
1/4 cup carrots --diced into small cubes
3/4 cup minced meat (cooked pieces of chicken or fish) - optional, but it would be better to use this
After the chicken broth has been made, allow it too cool for around 2 minutes.
Add all the flour and mix. Some flour might not dissolve but this is absolutely no problem (It will when you heat the mixture later on).
Heat broth and flour mixture on high heat until a thick creamy mixture is formed. Immediately add all other ingredients and pour all contents of this meal into the cat's container.
Allow it to set into jelly like substance with the carrots and minced meat suspended in it. Serve to your cat.
Cat Food Made with Beef & Other Meats
BEEF AND VEGGIE BROTH
1/2 cup raw trimmed beef
A few tablespoons of beef broth (Preferably not the canned or cubed variety)
2 tablespoons cooked oatmeal
1 tablespoon dried barley grass powder (Find at a pet food store)
1 cooked minced veggie (Your cat's favorite - Carrots are often a favorite)
Cook raw trimmed beef in just enough broth to cover, over medium to low heat. When beef is cooked thru shred with fork and mix with the broth in which it was cooked.
Add the minced veggie and the barley grass powder. Stir well. Last add the oatmeal to achieve the consistency that your cat likes.
Serve at room temperature.
This is a good pet food recipe for indoor cats.
FELINE HASH
1 cup cooked ground beef
1/2 cup cooked brown rice
6 tbl. alfalfa sprouts
3/4 cup cream-style cottage cheese
Mix together and serve.
HOMEMADE MEAL
1/4 pound liver (beef, chicken or pork only)
2 large hard-cooked eggs
2 cups cooked white rice without salt
1 tablespoon vegetable oil
1 teaspoon (5 grams) calcium carbonate
1/8 teaspoon potassium chloride (salt substitute)
Dice and braise the meat, retaining fat.
Combine all ingredients and mix well. This mixture is somewhat dry and the palatability may be improved by adding some water.
Also add a balanced supplement which fulfills the feline MDR for all vitamins and trace minerals and 250mg taurine/day.
SAUTEED LIVER
1/4 lb beef liver
1/2 cup water
1 teaspoon corn oil
Heat oil in a pan and add liver and fry on both sides until cooked but not dry inside.
Add water to the pan and mix it up with all the brown bits.
Grind the liver in a blender, using the pan juices. Make sure the meat has cooled prior to serving to your cat.
You are welcome to link to this webpage but please do not post my work on your website or blog.