Dog Food Recipes with Chicken and Beef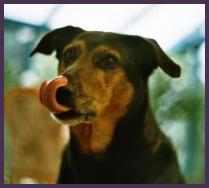 After going through a large group of dog food recipes and omitting any with ingredients that may be hard to obtain (spices, specific cuts of meat and fish, etc) or include onions and other ingredients that we know are not good for dogs to eat, we've come up with the following selection of meaty dog food recipes to share with your favorite canines.
Please be aware that several of these recipes will make large batches of food. You might wish to cut the dog food recipes or freeze them for later use.
Chicken Dog Food Recipes
Yummy Chihuahua's Stew
2/3 cup- turkey, liver, hamburger
1/2 cup rice
1/4 cup potato
1/4 tsp.garlic powder
1/2 carrot
1 cup water
Cut meat into tiny bite size pieces, slice the potato, and cut the carrot. Put all into a pot, add 1/2 cup water, then garlic powder. Turn on stove to high, let boil.
Cook the rice. While cooking add a little of the water every so often to the stew.
Add rice to pot, stir, keep at boil for 2 more minutes. take from heat.
Strain juice into separate pot. Let food cool. Once done, add a little juice.( if wanted)
Chow Chow Chicken
2 chicken thighs -- or white meat
1 stalk celery -- sliced thick
3 carrots -- peeled and halved
2 small potatos -- peeled and cubed
2 cups rice -- uncooked
5-6 cups water
Place chicken pieces in large pot. Cover with cold water. Add carrots, celery, and potatoes to water. Add salt to taste if you want. Cover and simmer on low heat about 2 hours until the chicken becomes tender.
Add the rice, cover and cook over low heat for about 30 minutes until the rice is tender and most of the liquid is absorbed.
Remove soup from heat. Pull the chicken meat off the bone ( if will practically fall off), discard bones. Return shredded pieces to pot. Stir well.
Let cool. Store your homemade dog food in the refrigerator or freeze.
Grrrrisotto
olive oil
sesame oil
1 potato, peeled and finely chopped
3-4 button mushrooms, cut into quarters or sliced
50g/2 oz cooked whole grain rice
50g/2 oz canned sweet corn (optional)
75 g/3 oz cooked chicken, in strips or chunks
39 g/2 tbsp plain yogurt
Heat the oil, throw in the potato pieces, and sauté until translucent. Add the mushrooms, and keep stirring while adding the rice and the sweet corn.
Next add the chicken, stirring a little longer; reduce the heat to low. Keep stirring for a further 2-3 minutes.
Lastly stir in the yogurt, reduce the heat to very low. Continue to stir for 1 more minute. Cover and leave for 5 minutes, lifting off the lid and stirring briefly every minute or so.
Allow to cool completely. Sprinkle sesame oil on top of food (optional).
Home Cooking
This is a bulk recipe for those with more than one dog who want to feed well balanced home cooked food.
approx. 5 lbs of chicken or ground beef
3/4 cup canola oil
4-5 cloves garlic
32 cups water
8-10 cups processed veggies (carrots, celery, broccoli, cauliflower, bean sprouts, potatoes, sweet potatoes, red peppers, spinach, beets, lettuce, tomatoes, etc.)
NO ONIONS (not good for dogs)
2-3 cans kidney beans
1/2 molasses (optional)
42-45 oz oatmeal (quick cooking oats)
eggs can be added to boost protein
In a large 24qt pot brown ground meat, add canola oil and garlic. When well cooked, add water. Bring to boil, then add veggies that have been chopped in a food processor, (frozen or canned veggies will work too). You ca use dried kidney beans and soak them the night before preparing a batch of food. While cooking the meat, you can cook the beans in another pot. Once cooked, they are added to the above mixture.
Next, the oatmeal is added. Frequent stirring is necessary at this point as the dog food mixture will stick.
Remove from heat, cool and put into containers.
The above mixture feeds 3 Boxers for 1 week.
Another option is to add pumpernickel bread and some times substitute brown rice for some of the oatmeal. This recipe is very flexible. If you are worried about meeting all of your dog's dietary requirements, you could also add a mixture called Healthy powder to each meal. Serve the Home Cooking dog food twice daily and add 1 tsp of healthy powder to each meal for each dog.
Dog Food Recipes - Beef
Mint Rice Hamburger
5 cups of uncooked rice
10 cups of water
2 pounds low fat hamburger
5 tbs dried mint
Bring rice to a boil. Add hamburger and mint. Bring back to boil. Mix well. Reduce heat to low. Cook until all water is absorbed.
We are told that at least one golden retriever loves this homemade dog food with hamburger and the mint gets rid of bad breath!
Rice & Meat Mania
1/2 cup of either hamburger, ground pork (cooked all the way through), ground chicken, ground turkey, or liver
4 cups rice
1 cup vegetables-- choose 1 or more of either sweet potato, regular potato, green beans, carrots, or spinach
1 tablespoon vegetable oil
2 cloves garlic
Boil all ingredients together in a large pot. Be sure that if you used pork, it is cooked all the way through.
*OPTIONAL INGREDIENT FOR VARIETY - Noodles - Use all the ingredients above, except you boil 1 pound of noodles separately. Mix noodles in with all other ingredients when the ingredients are ready to serve. (Italian and Chinese noodles work best.)
BONE appetite!!
Rrrruvery Rrrrrisotto
3-4 cloves garlic mashed
500gms/1pound minced meat
1 1/2 cups rice
4 cups finely chopped veggies (NO onions! they're toxic to dogs)
1 stock/bullion cube
5 cups water
Gently fry the garlic. Add meat and brown it through.
Add rice and mix well.
Add 3 cups water (with stock cube dissolved). Bring to boil and simmer gently for 5 minutes.
Add veggies and remaining water, simmer very gently for about 20 minutes, till water is absorbed. Add more water if it gets dry!
Cool & serve, or freeze for later.
This is a very good dog food for "high-energy" dogs like terriers, who do a lot of racing around, burning up calories! Or dogs who are a bit fat, and don't need too much protein in their diet!
Divine Doggy Dinner
1/2 pound ground beef -- or turkey, chicken, lamb
1/4 cup cooked rice
1 small potato
1/4 cup green beans -- about 5-8 beans
1/4 teaspoon garlic powder
Brown the meat in a pan. When completely cooked, drain the fat. Add the cooked rice; mix well. Set aside.
Cut the potato and beans into small bite-sized pieces. Place in a pot with water; bring to a boil. Simmer until veggies are tender (about 15-20 minutes). Drain. Add the vegetables to the meat mixture.
Add garlic powder; toss thoroughly under low heat.
Let the doggy dinner cool thoroughly before serving to prevent burning.
Yield: about 2 dinners
Doggie Quiche
4 whole eggs
1 tablespoon cream
2/3 cup milk, skim
3 ounces meat -- *see Note
2 ounces shredded lowfat cheddar cheese -- or other type
1 whole pie crust (9 inch)
1/2 teaspoon garlic powder -- optional
1 sprig parsley -- chopped fine
Pre-heat oven to 375F degrees.
Wisk egg, cream, milk together, then pour into pie crust. Add meat, cheese evenly Bake for 30-45 min. Till done. Let it cool. Sprinkle fresh parsley.
Note: fine chopped, any type of meat your dog(s) like. Use pre-cooked, unless you use liver. Fresh shredded veggies can be used as well.
MEATBALL MANIA
1/2 pound ground beef
2 tablespoons grated cheese
1 carrot -- finely grated
1/2 teaspoon garlic powder
1/2 cup bread crumbs
1 egg -- beaten
1/2 tablespoon tomato paste
Preheat oven to 350 degrees.
Combine all ingredients together; mix thoroughly. Roll into meatballs - whatever size is appropriate for your dog.
Place on a cookie sheet sprayed with non-fat cooking spray. Bake for 15-20 minutes, or until they are brown and firm.
Cool and store in the fridge or freezer.
MUTT'S FAVORITE RICE N' HAMBURGER
2 cups rice
1/2 pound hamburger meat
1 teaspoon vegetable oil
1 clove garlic
1/2 cup carrots or broccoli or spinach
4 cups water
Put all ingredients into a large pot, boil until done, then cool off and serve to your favorite canine.
Dog Food Recipe with Lamb
Lhasa Apso Lamb
1 pound lamb, ground -- cooked
2 cups cooked brown rice
2 cups cooked white rice
1 cup yogurt, skim milk
4 cloves garlic -- crushed
1/4 cup green beans, frozen -- chopped
1/4 cup carrots, frozen -- chopped
1/4 cup kale, frozen -- chopped
Cook Lamb and drain off excess fat if desired.
Defrost frozen veggies, but don't cook them and chop to desired size.
In a large bowl mix cooked lamb, cooked rice, chopped vegetables, garlic and yogurt. Slightly heat if desired to serve.
Refrigerate or freeze portions in zip lock bags. Should yield 3 to 6 servings.