Dog Food Treat Recipes Made
with Baby Food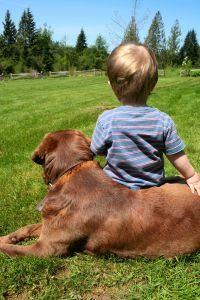 What could be easier than making home made dog treats with baby food? The dog treat recipes on this page all use jars of baby food as a major ingredient.
If baby food is good for your baby why wouldn't it be good for your fur-baby too?
Please be aware that several of these recipes will make large batches of food. You might wish to cut the dog food recipes or freeze them for later use.
NOTE: When cooking for pets using prepared baby food, make sure the baby food does not contain onion products as onions are harmful to pets.
Dog Treat Recipes with Baby Food
Munchie Crunchy Meat Treats
1/2 cup powdered milk -- non-fat
1 egg -- beaten
1 1/2 cups rice flour
1/2 teaspoon honey
1/2 cup water
5 teaspoons chicken broth -- or beef
1 jar baby food strained meat - any flavor
Combine all ingredients well. Form into a ball. Roll dough out on a floured surface. Cut out desired shapes.
Bake in a 350 degree oven for 25-30 minutes.
Let cool. The dog treats should be hard and crunchy.
Wacky Wheat Dog Treats
2 jars baby food any strained meat
1/2 cup nonfat dry milk
2 ounces wheat germ
1/3 cup water
1/2 cup flour
1 teaspoon garlic powder
Mix together well.
Roll out dough on floured surface. Cut out witch hat patterns and place on lightly greased cookie sheet.
Bake the dog treats in a 325 degree oven until golden brown, about 30-35 minutes.
Doggie Beef Twist Sticks
1 jar Baby food - strained meat or beef
3 1/2 cups flour, all-purpose
1 cup cornmeal
1 package unflavored gelatin
1/4 cup milk
1 egg
1/4 cup corn oil
1 beef bouillon cube
3/4 cup boiling water -- or beef stock
Dissolve bouillon cube in water or use 3/4 cup of pre-made beef stock.
Sift dry ingredients together in large bowl.
Add milk, egg, corn oil, baby food and beef bouillon/beef stock to the dry ingredients and stir until well mixed.
On a floured surface roll dough to 1/4 inch thickness. Cut dough into 1/4 inch wide by 3 inch long strips and twist each stick 3 turns before placing on cookie sheet.
Bake 35-40 minutes at 400 degrees.
Store unused dog treats in refrigerator.
The following recipes are quite similar, only the amount of dry ingredients varies. We haven't made either recipe so we can offer no suggestions as to whether the wheat germ and cream of wheat perform differently.
Dog-Gone Good Snacks
3 1/2oz Jar liver or beef baby food
1/3 cup Wheat germ
2/3 cup Non-fat dry milk
Preheat oven to 350 degrees.
Mix all ingredients well. Drop by the tablespoons onto a greased cookie sheet.
Bake for 12-15 minutes. Cool before serving to your dog.
Store uneaten dog snacks in the refrigerator.
Baby Food Doggie Cookies
3 jars baby food, meat, beef, strained
1/4 cup cream of wheat
1/4 cup dry milk
Preheat oven to 350 degrees.
Combine all of the ingredients in a bowl and mix well.
Roll into small balls and place on a well-greased cookie sheet. Flatten slightly with a fork. Bake for 15 minutes or until brown.
Cool doggie cookies on wire racks and store uneaten treats in the refrigerator or freeze.