Free Homemade Kitten Food Recipes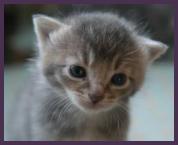 There's so many strange things in commercial cat food that I would think kittens might be the most susceptable to having problems. We've found three recipes that require few ingredients that most households don't already have on hand. These three homemade kitten food recipes were designed to help bridge the transition from kitten formula to more solid food and should help your growing kitten flourish
We also have kitten food recipes for homemade Kitten Formula and Kitten Milk to help those kittens not ready for solid food thrive. The recipes are varied enough where hopefully even the pickiest eater should find one to their liking.
Kitten Food Recipes
GLOP ( KITTY PUDDING)
This pudding is rich in calcium and can be fed as a supplement for weaning kittens, lactating queens, or sick cats. It can also be used to put weight on show cats.
0.35oz (10 grams) unflavored gelatin
8.45oz (250ml) boiling water
8.45 oz (250ml) evaporated milk (or goat's milk)
2 egg yolks (use the whites to make yourself a yolk-less omelet or other treat)
2 tablespoons high calorie mayonnaise
2 tablespoons plain yogurt
2 tablespoons corn syrup
1 capsule acidophilus (or use acidophilus yogurt)
Cat vitamins
Dissolve gelatin in 8.45oz (250ml) boiling water and leave to cool. Add all remaining ingredients to cooled gelatin. Place the mixture in the refrigerator. The kitten food mixture will gel as it cools and can be scooped out as required. Warm the mixture slightly in the microwave before serving. Do not return heated mixture to the main supply.
Mixture can be kept in the refrigerator for seven days or frozen until needed.
GRUEL
This is useful for introducing kittens to something more solid than milk, or for feeding to a convalescing cat.
1 tablespoon of oatmeal
one pint (half liter) milk
Mix the oatmeal with a little milk to a fine paste.
Bring half a liter (one pint) of milk nearly to the boil and stir in the oatmeal mixture.
Cook for about ten minutes, without boiling, stirring from time to time.
Be sure to let cool to room temperature before serving to your kitten.
KITTEN DELIGHT
1/3 slice of white bread
1/8 cup Milk
1/8 cup Chicken or other clear broth
Pour milk and chicken broth into a mixing bowl.
Tear 1/3 slice of bread into tiny bits, then dump into the mixing bowl.
Heat in the microwave for approximately 1 minute. When finished, let cool then serve to kitten.