Dog Food Recipes using Chicken and Beef Bouillon or Broth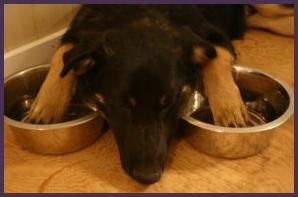 I went through a large group of dog food recipes that use bouillon and broth and tried to eliminate anything that had foods harmful to dogs.
I also eliminated those dog food recipes with ingredients that may be hard to obtain (spices, specific cuts of meat and fish, etc) or include onions and other ingredients that we know are not good for dogs to eat, we've culled the list down to the following selection of dog treat recipes that use chicken and beef bouillon and/or broth to share with your favorite canines.
Please be aware that several of these recipes will make large batches of food. You might wish to cut the dog food recipes or freeze them for later use.
Dog Treat Recipes
Dog Cookies With Chicken Broth
2 cups whole wheat flour
2/3 cup yellow cornmeal
1/2 cup sunflower seeds -- shelled
2 tablespoons corn oil
1/2 cup chicken broth
2 eggs
1/4 cup low-fat milk
1 egg -- beaten
Heat oven to 350 degrees.
In a large bowl, mix together flour, cornmeal and seeds. Add oil, broth and egg mixture. The dough should be firm. Let sit 15-20 minutes.
On a lightly floured surface, roll out dough 1/4 inch thick. Cut into shapes and brush with beaten egg.
Bake for 25-35 minutes, until golden brown.
Remove and cool. Store in airtight container.
Rover's Reward
1 package active dry yeast
1 teaspoon sugar
2 cups all-purpose flour
2 cups whole-wheat flour
2 cups cornmeal
2 cups oatmeal -- uncooked
1 cup fresh mint leaves -- chopped, loose packed
1 cup parsley sprigs -- chopped, loose packed
1/2 cup toasted wheat germ
1 can beef broth -- (13 3/4 to 14 1/2 ounces)
3/4 cup milk
Preheat oven to 350 degrees F. In small bowl, combine yeast, sugar, and 1/4 cup warm water (105 degrees to 115 degrees F.). Let stand until yeast foams, about 5 minutes.
In very large bowl, combine all-purpose flour, whole-wheat flour, cornmeal, oats, mint, parsley, and wheat germ. With wooden spoon, stir in yeast mixture, broth, and milk until combined. With hands, knead dough in bowl until blended, about 1 minute.
Divide dough in half. Cover 1 piece with plastic wrap to prevent drying out. Place remaining piece of dough on lightly floured surface. With floured rolling pin, roll dough to 1/4-inch thickness. With large (about 5 inches) or small (about 2 inches) cookie cutter, such as bone* or mailman, cut out as many biscuits as possible, reserving trimmings. With spatula, transfer biscuits to large ungreased cookie sheet. Reroll trimmings and cut more biscuits. Repeat with remaining dough.
Bake small biscuits 30 minutes, bake large biscuits 40 minutes. Turn oven off; leave biscuits in oven 1 hour to dry out.
Remove biscuits from cookie sheet to wire rack. When cool, store at room temperature in tightly covered container up to 3 months.
Yields: about 4 dozen large biscuits or 24 dozen small biscuits Work
Boo's Biscuits
3 1/2 cup whole wheat flour
2 cup Quaker oats
1 cup milk
1/2 cup hot water
2 beef or chicken bouillon cubes
1/2 cup meat drippings
Dissolve bouillon cubes in hot water. Add milk and drippings and beat.
In a separate bowl, mix flour and oatmeal. Pour liquid ingredients into dry ingredients and mix well.
Press onto an ungreased cookie sheet and cut into shapes desired. Bake at 300 degrees for 1 hour. Turn off heat and leave in the oven to harden.
Refrigerate after baking.
Surprise Snacks
1/4 cup hot water
8 chicken bouillon cube -- or beef
1 package dry yeast
1 1/2 cups tomato juice
2 cups flour -- divided
2 cups wheat germ
1 1/2 cups whole wheat flour
Place the hot water and bouillon cubes in a large mixing bowl and mash with a fork. Sprinkle yeast over this mixture and let stand about 5 minutes, until yeast is dissolved.
Add the tomato juice, half the flour and the wheat germ and stir to form a smooth batter. Gradually work in the remaining flour and the whole wheat flour with your hands. Divide the dough into 4 balls. Roll each ball out on a floured board to about 1/4" thick. Cut into shapes and place on ungreased cookie sheets about an inch apart.
Bake in a 325F. oven for 1 hour, then turn off the heat and let biscuits dry in oven for about 4 hours or overnight with the door propped open slightly. Store in airtight container.
Tess' Tantalizing Treats
1 cup oatmeal -- quick
1/4 cup margarine
1 1/2 cups hot water
1/2 cup powdered milk
1 cup grated cheddar cheese -- or Swiss, Colby
1/4 teaspoon garlic powder
1 egg -- beaten
1 cup cornmeal
1 cup wheat germ
3 cups whole wheat flour
1 tablespoon beef bouillon -- or chicken
Preheat oven to 300°.
In large bowl pour hot water over oatmeal and margarine (cut-up melts faster); let stand 5 minutes. Stir in powdered milk, grated cheese, garlic powder, bouillon and egg. Add cornmeal and wheat germ. Mix well. Add flour, 1/2 cup at a time, mixing well after each addition. Knead 3-4 minutes, adding more flour if necessary to make very stiff dough. Pat or roll dough to 1/2 inch thickness.
Cut into bone shaped biscuits and place on a greased baking sheet. Bake for 1 hour. Turn off heat and leave in oven an additional 1 1/2 hours or longer.
Makes approximately 2 1/4 pounds of dog treats.
Cool Me Down Baby
1 can of chicken or beef broth
1/2 can water (use broth can)
Mix the broth of your choice with the water, pour frozen. This great for dogs in hot climates.
Yoghurt Pups
32oz plain non-fat yoghurt
3/4 oz water
1 tsp chicken boullion (powdered or granules or 1 cube)
Dissolve boullion in water.
Combine water and yogurt in blender and blend thoroughly.
Pour into small plastic containers, cover with tin foil and freeze.
You can recycle the little plastic tubs that come with vanilla ice cream in them that hold about 1/2 cup Dogs love these.
You can make them with fruit instead of boullion to eat yourself.
Lamb's Dog Biscuits
2 1/2 cups all-purpose flour
1/2 cup vegetable oil
2 veg. bouillon cubes dissolved in 3/4 cup boiling water
3/4 cup dry milk
1 egg
1/2 cup carrots
1/4 cup shredded celery
Preheat oven 300 degrees.
Mix everything into a workable dough and roll out to about 1/4 " thick. Cut with bone-shaped cookie cutter - or into strips - or use cutter shape or your choice. Place on ungreased cookie sheet and bake for 30 minutes.
Pogo's Light Biscuit for Belly Draggers
2 cups Whole wheat flour
1/2 cup Soy flour
1/2 cup Cornmeal
1/4 cup Brewer's yeast
1/4 cup Dry milk powder
1 tsp. Garlic powder
1 tbs. Parsley - finely chopped
1 pkg. Dry active yeast
1/4 cup Warm water
1 cup Chicken stock
GLAZE 1 Egg beaten + 1 tbs. Milk
Preheat oven to 300F.
Combine the flours, cornmeal, brewer's yeast, dry milk powder, garlic powder and parsley in large bowl.
In a small bowl, dissolve the yeast in warm water and stir well. Then add the chicken stock. Pour the liquid mixture into dry ingredients.
Working with your hands, combine all ingredients completely. Knead for several minutes. Sprinkle a board with additional cornmeal and roll dough out to 1/4" thickness. Cut into shapes and place on un-greased cookie sheet.
Brush lightly with egg glaze (beaten egg and milk added together) and bake 45 minutes. Turn heat off and let biscuits dry out in oven for several hours or overnight.
Store in airtight container.